Beveridge Place "opened" on October 27, 2003, however, its roots start back in December 2001, when we purchased the Full Moon Saloon, located where Whisky West is now.  In between, many changes were made – some subtle, some dramatic, but all with a purpose. Unfortunately, our stay there was short, so we had to find another location.
In April 2008, after a year-long renovation, we moved into our new digs just across Beveridge Place from our original spot.  While most people remember the building as the former Video Vault, old-timers also talk about the building's original use – a tavern (the White Horse).   We brought all the good stuff with us: the back bar, antique furniture, the bowling lane bartop, yes, even the bartenders.  New additions include the outdoor seating area christened the "Beveranda", a fancy walk-in for the kegs, & spacious restrooms (ask regulars about the old ones). 
Great beverages from around the world and down the street!
Our philosophy is to offer an ever-changing variety of craft-brewed draft ales and lagers on tap, focusing on those made in Washington. The Pacific Northwest is recognized as the solid core of the craft beer movement and we want to support these talented local brewers. We also regularly serve draft beers from foreign lands such as Europe, Asia, and Oregon. Our bottled beer selection will transport you around the world. The best offerings from Belgium, Germany, Great Britain, and elsewhere are available for your enjoyment.
On Draught: For your pleasure, we offer 37 rotating taps (including two Nitros and a Cask Beer Engine).
From The Bottle: We offer 100s of bottles and cans of specialty beer, plus wine, cider, mead, and soft drinks to cover your beverage desires!
To Go: In addition to enjoying a beverage (or two!) at our Pub, you may take many of our beverages home. Order on-line, pick up at Beveridge Place.

The name Beveridge Place Pub reflects the evolution of our place from tavern to alehouse – a comfortable "local" that emphasizes quality ales, lagers, wines, ciders, meads, and sake. The word "pub" is short for "public house", which evokes that home-away-from-home feeling reminiscent of the wonderful neighborhood pubs of Great Britain and Ireland. Beveridge Place is the name of the street that runs alongside our pub. We felt that it was too much of a coincidence to pass up on this play on words.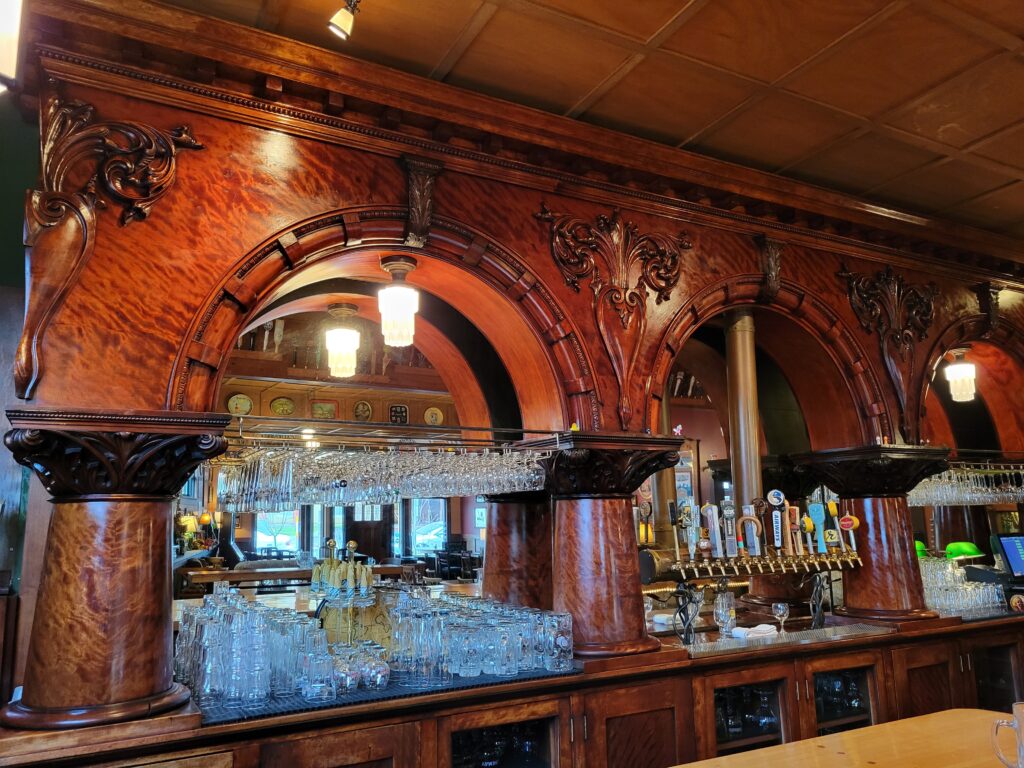 ---
OUR BACK BAR
————-
The visual centerpiece of our pub is our turn-of-the-century (that's the 20th century) back bar – we decided to name her Eleanor. She found her way to us through one alert bartender, Jennifer, and many amazing friends. Rescued at an auction at the Buzz Inn in Kent, this 1907 Brunswick received a lot of TLC to bring back the original beauty of her cherry-stained tiger maple, including totally dismantling, cleaning (not refinishing!), and re-installing her in her new home. We hope you agree that she's one of the most impressive pieces of craftmanship in the Seattle!
Along with the wide variety of beers and games, the Beveridge Place Pub also offers the most diverse food selection in West Seattle – without a kitchen! Ask your bartender for the Menu Book, which includes menus from local restaurants that provide delivery or take-out. On any given night you can enjoy Italian, Chinese, Thai, Mexican, or Vegan cuisine, and the ever-popular beer food, pizza (we highly recommend Peel & Press). We decided it was more important for us to concentrate on what we know best, quality beverages, and let the restaurants take care of what they do best, quality food. You can even bring food from home.
We're always adding new beers, ciders and more to our list!